About Us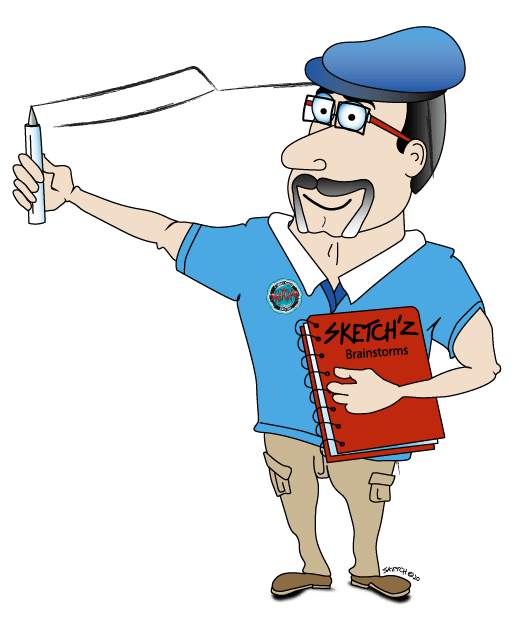 Sketch'z was formed in 1987 by a graduate of The Art Institute of Philadelphia. He was trying to find his way in the "Land of Opportunity". He was working at a major brand name mfg. plant with 24/7 shifts at the time. Many of his co-workers in labor knew of his artistic skills and tagged him with the "nick name" Sketch. Everybody get's a NICK NAME!!
It all started with setting up a T-shirt airbrushing booth at a local outdoor hunting trade show under the trade name Sketch's Wearable Art. As small business owners would come up to the booth and ask to have multiple shirts airbrushed with "WAY" too much text, etc. he would direct them to buying printed T'z from a local T-shirt printer. Finally, one customer said, "But I want you to print my shirts. If you had the right equipment, do you think you could screen print my order for me?" He said "yeah, sure, I'll give it a try".
So, with the slogan, "If It's Art...It's Wearable™" we were off and squeegeeing! So there ya go, it all started something like that.
---
In The Beginning
A few years later
A few more Years 2016
We were greatly saddened by the attack on our country September 11, 2001 I/we fully supported our President, leaders, military and those in support behind the scenes. We grieve for all those who lost loved ones and friends in the attack. We pray you find comfort and hope in your time of sorrow. I am one who also believes this is only the beginning of the global change this will cause in the next decade.
Sincerely,
When I found we did not have a flag to wave at the time of the attack to show our support and patriotism. I went to find one to buy like millions of other Americans and found NONE. I wanted to show our support and patriotism very much, especially when being raised in the military.
When I remembered that I am an artist and my good friend Page also. I said to Page "Hey, let's just paint a flag in the windows!" Needless to say we were very excited to design and airbrush it as quickly as possible. We think it turned out great! So did a lot of the surrounding community. We thank you for the notes, all the comments and honks from your car horns as you passed by while we were painting it. God bless.
I would like to thank my good friend Page Herbert for wanting to design and paint the flag in our windows. We painted another one for Angels Dance Studio in Colonial Heights, VA. I was only able to help a little.
My friend, Larry Wilson, owner of Wilson Graphics in Chester, Va 804-748-0646 asked us if we would do their windows also. So we did! How do you like them? Comments & Questions
---
A dance studio we helped paint in 2001 in Colonial Heights VA
---
A long time Chester, VA business associate Larry Wilson wanted his store windows painted too!
---
Dear Buyer,
If your corporation, small business or organization would like to increase recognition through screen printed, embroidered wearables or other imprinted promotional products, we can help you. With access to 1,000's of items we can supply you with just about any item imprinted with your logo.

Sketch'z can give you full service with in-house art and production capabilities. From your rough concept to the completed embellished item, we can be your "One Stop Shop".

We believe we can give you better, consistent service, pricing and quality that cannot be obtained through the middleman operations of which there are MANY!
You are welcome to stop by and browse at our sales office/showroom at the address location above or call ahead for a direct appointment to place your order, since it may take more than just a few minutes to discuss your order. If you like, you can contact us through this site via e-mail Comments & Questions and place your order. We welcome you to browse our web site and to send us any comments or questions you might have.
---
DESCRIPTION OF OPERATION
SKETCH'Z is a wholesale custom screen printer/embroiderer of wearing apparel. Specializing in: T-shirts, polo/golf shirts, sweats, jackets, headwear, and other promotional products(i.e. Coffee mugs, Mouse Pads, Imprinted pens, stadium cups, buttons, glassware, Brand Name Products: flashlights, golf accessories etc.). We also offer Digital Printing for Low Volume Orders using the latest in state of the art Color Laser Copier Transfers and Sublimation Transfers. They are great for supplying low volume requests to "One Of A Kind" Personalized T's. We can apply T-shirts with Photo's, Personal Art or your favorite Quotation. We also offer basic teamwear w/names and numbering (i.e. Softball pull over two button placket/no collar shirts, tanks, shorts, etc.).
---
CUSTOMER USE DESCRIPTIONS
Employee Identification
Employee Incentive
Promotional Premium Give Away
Group Association Identification
Resale For Profit
Morale Booster
---